Most Successful Gynecomastia Surgery in Gurgaon and Delhi NCR
What is Gynecomastia?
Gynecomastia is a condition of overdeveloped or enlarged breasts in men that can occur at any age. The condition can be the result of hormonal changes, heredity, obesity, or the use of certain drugs.
Gynecomastia can cause emotional discomfort and impair your self-confidence. Some men may even avoid certain physical activities and intimacy simply to hide their condition.
Characterization of Gynecomastia:
Excess localized fat
Excess glandular tissue development
Sometimes excess breast skin
Presence unilaterally (one breast) or bilaterally (both breasts)
Gynecomastia Surgery in Gurgaon
Gynecomastia surgery is the procedure to reduce breast size in men, flattening and enhancing the chest contours. Male breast tissue swells due to reduced male hormones (testosterone) or increased female hormones (oestrogen). Causes include puberty, ageing, medication and health conditions that affect hormones. We anticipate our Gynecomastia Surgery in Haryana with prolific doctors and highly experienced medical professionals.
CK Birla Hospital for Women is one of the leading hospitals for Gynecomastia Surgery in Haryana. In layman language, Gynecomastia refers to the appearance of a female-like chest in a man, ranging from simply puffy nipples to full-blown breast development. Opt for the hospital with leading Gynecomastia Surgery in Gurgaon.
Factors Responsible for Gynecomastia
Drug intake. Such as steroids, or diuretics, and so on.
Obesity.
Liver disease.
Testicular issues.
In rare cases, due to kidney or adrenal cancers.
Heredity.
Hormonal changes.
Klinefelter's syndrome.
Sometimes the reason is not clear.
Types of Gynecomastia Surgery in Haryana
The exact techniques used to complete the gynecomastia surgery will vary depending on the type of gynecomastia you are affected by. However, there are some general expectations that all gynecomastia surgery patients can have from the procedure.
Before performing the procedure, Dr Rohan Khandelwal will conduct a thorough examination of the area to determine a plan for the surgery.
Gynecomastia Surgery in Gurgaon is usually performed under general anaesthesia. Removing the excess tissue is typically done through a combination of incisions to remove excess glandular or other breast tissue as well as liposuction to remove excess fat.
Gynecomastia Surgery in Delhi NCR
Our hospital provides the best Gynecomastia Surgery in Delhi. There are 2 types of conditions for Gynecomastia.
Gynecomastia- The first is gynecomastia, which is a medical condition – men with such condition have more prominent glandular tissue present, often as a result of hormonal imbalance. When it comes to man boobs for the majority of men, they are usually a mixture of both fat and breast tissue enlargement.
Pseudo gynecomastia- The second condition is pseudo gynecomastia, which is the accumulation of excess fat tissues on the chests. We provide world-class treatment for both the conditions of Gynecomastia Surgery in Delhi NCR as well as Gynecomastia Surgery in Gurgaon, Haryana.
If your breasts are causing you a significant amount of pain or discomfort, it is advisable to make an appointment with your doctor right away. Breast Health provides the best Gynecomastia Surgery in Delhi.
What are the methods of Gynecomastia surgery in Haryana?
Liposuction.
Excisional surgery.
Combined suction lipectomy with gland excision.
Liposuction
Liposuction includes a method of body sculpting through the removal of excess fat or skin on the region near your breast.
It could include tightening of skin or muscles. Such as abdominal muscles or skin.
Excisional surgery
Excisional surgery directly takes the path of reduction. In this method of treatment, the surgeon makes an incision on the required region of the skin. Then the surgeon tries to remove all the extra or abnormal or unwanted tissues.
The last method is the combination of suction lipectomy with gland excision.
These methods are performed under the conditions of the individuals. As the best performance of Gynecomastia surgery will be able to be successful in certain body types.
We have a good reputation in our field and assure you with successful Gynecomastia Surgery in Gurgaon.
Several health conditions can cause gynecomastia by tilting the normal balance of hormones. These include: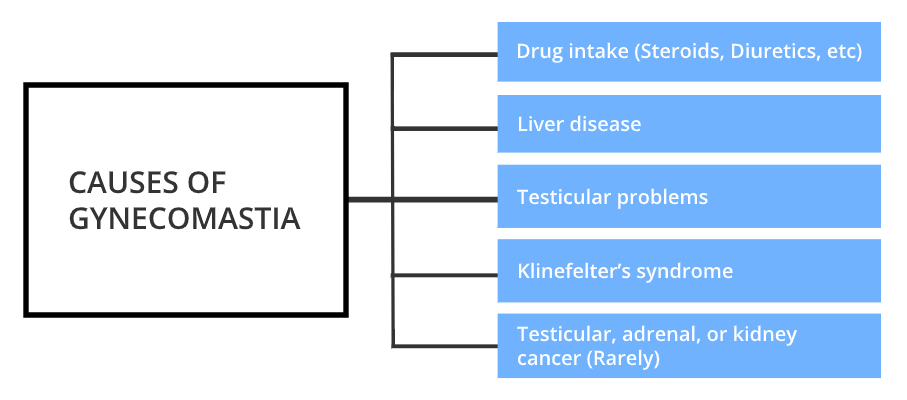 Klinefelter's syndrome - Any of the conditions that interfere with normal testosterone production, such as Klinefelter's syndrome or pituitary insufficiency, can be associated with gynecomastia.
Hormone changes - It occurs during the normal course of ageing can cause gynecomastia, especially in overweight men.
Tumours - such as those involving the testes, adrenal glands or pituitary gland, can produce hormones that alter the male-female hormone balance.
In this condition, the thyroid gland produces too much of the hormone thyroxine.
Kidney Failure - About half the people being treated with regular hemodialysis experience gynecomastia due to hormonal changes.
Liver Failure and Cirrhosis - Hormonal fluctuations related to liver problems as well as medications taken for cirrhosis are associated with gynecomastia.
Malnutrition and Starvation - When your body is deprived of adequate nutrition, testosterone levels drop, but estrogen levels remain constant. As such, this causes a hormonal imbalance. Unfortunately, Gynecomastia may persist despite resuming normal nutrition.
Recovery after Gynecomastia Surgery in Delhi NCR
The recovery from gynecomastia surgery typically takes about four weeks total, though most patients return to their normal routines by about two weeks. You can expect some soreness, redness, and potentially bruising after the surgery. Drains may be in place, and you will be required to wear a compression garment as you heal. Light exercise can usually be resumed after about two weeks.
The patient is accompanied by a team of trained professionals. Post Gynecomastia Surgery in Delhi, we make sure of keeping them under observation. We are well proficient in our field and have a commendable success rate in Gynecomastia Surgery in Delhi NCR.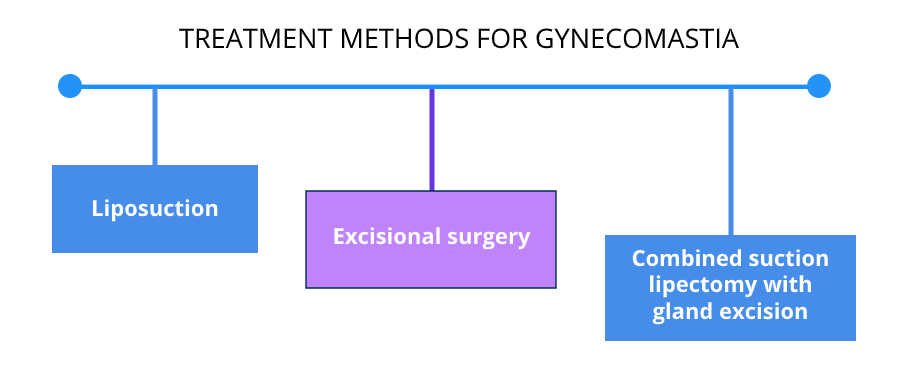 Best Doctors for Gynecomastia Surgery in Delhi NCR and Gurgaon.
To get the best results, professionals need to handle and check us for a better result. Dr Rohan Khandelwal is one of the best specialists you can look forward to. He is one of the best practitioners in this field and is actively available in Delhi as well as Haryana. He is well-known for serving the patients with his in-depth medical information and knowledge.
Our hospital is well equipped to provide excellent Gynecomastia Surgery in Delhi. Our treatment is the safest and is performed by experienced professionals.
Our highly efficient team assists an experienced surgeon while performing Gynecomastia Surgery in Haryana as well as Delhi NCR.
There are other major doubts as well which revolves around Gynecomastia surgery. The major thing one needs to install in their minds is that the Gynecomastia surgery is long-lasting and is done for a long-term heal.
At our well-reputed hospital, you will be treated by experienced professionals. Our doctors are available for Gynecomastia Surgery in Gurgaon, Haryana as well as Gynecomastia Surgery in Delhi NCR.