The current COVID19 pandemic has affected the way all doctors practice and oncologists are no exception. Over the last 2-3 months, we have witnessed a lot of changes in treatment protocols, attitude of cancer patients towards their disease and the behavior of newly diagnosed breast cancer patients. Rather than going into technical details regarding the treatment protocols which we are following (which are an Indian modification of American/ European guidelines, most suited for our breast cancer patients at CK Birla Hospital), I will be discussing changes which we have made as doctors and how are our patients coping with the pandemic.
When the lock-down was announced in mid March, fear & panic is what prevailed amongst the patients and they were initially apprehensive in coming to the hospital for their surgery/ chemotherapy. But by early April, it was clear to patients that COVID will persist for a few months and although the world might be in lock-down but the cancer brewing inside their body would continue to grow and they would need to fight it out.
During the two months of lock-down, 94% of our breast cancer patients continued their chemotherapy. The ones who skipped some cycles were patients with metastatic disease, who wanted a 'chemotherapy holiday'. In this period, my unit also operated 22 breast cancer patients. The number of benign (non cancerous) breast surgeries dipped dramatically during this period but we have seen a rebound increase in such cases since the lockdown norms have been eased.
After talking to a lot of friends & colleagues in UK/USA, I realised that I will only be able to take care of my patients if I stay healthy and disease free. To ensure that, in addition to the measures implemented by the hospital, I have also started using extra precaution in the form of a 3M 6200 mask with two p100 filters, which keeps the smoke plumes (thought to be a the leading case of infection in surgeons & anaesthetists) away. Of course, my OCD of hand washing has also served me well during this period 😊.
Our breast cancer patients have also adapted well over the course of the last 2 months. Our unit has a very active cancer support group known as 'Vijay' and all the members have devised new methods to keep in touch with each other during these tough times.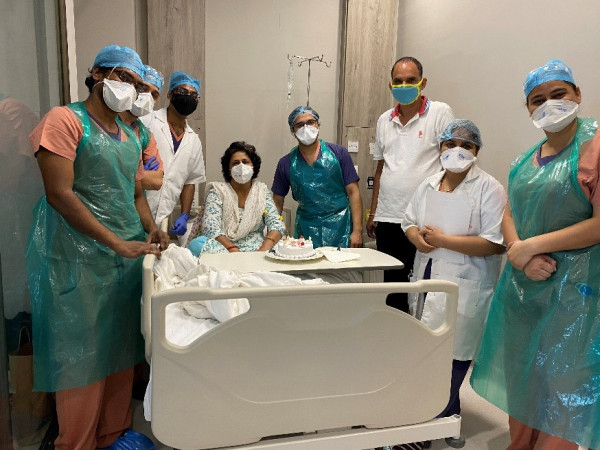 In the pre-covid times, old patients used to visit the new patients on the day of their surgery/ first chemotherapy. This is has been replaced by zoom group calls to support newly diagnosed patients. Even our treatment completion celebrations have undergone a lot of change. Earlier, these used to be elaborate affairs where the patient's family & the treating team would participate actively, but now we have toned it down (but not stopped it, as it is a very important landmark in the patient's life) to a simple cake cutting with everyone wearing masks.
To summarise, my biggest learnings during this period have been
Cancer care has to go on but we should be willing to adapt our treatment strategies after a thorough discussion with the patient
The safety of the treating team & patients is of paramount importance in order to deliver seamless breast cancer care during this outbreak